Wilderness Annihilation
The annihilation of the wilderness that has gone on at break neck speed in British Columbia (BC) is a grotesque display of corporate license. By destroying the rare and precious groves of ancient trees that define the rich biodiversity of the old growth temperate rainforests of BC, the multinational forest industry is demonstrating its total disregard for what is the natural legacy of human beings everywhere. Less than three hours from BC's capital city, Victoria, the American logging company Weyerhaeuser ruthlessly clearcut logged publicly owned forest lands of the Upper Walbran Valley, including monumental cedars (right), the celebrated "Tree of Life" of First Nations. Such big cedars are vanishing in BC due to industrial logging and with them will go the world renowned tradition of totem poles.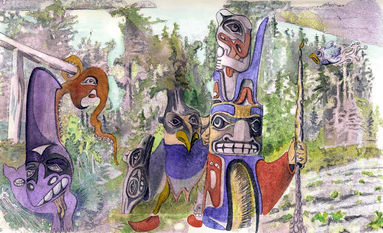 "Looking Out #7," by M. N. Y, 2006.
Photo: Rocking Raven
A giant spruce tree on Haida Gwaii is among the biggest trees in BC that have survived industrial logging (right). Much of the work by Haida artist and longtime forest activist Michael Nicoll Yahgulanaas is inspired by Haida Gwaii. An example is the watercolour (above) which is part of a series called "Looking Out." As a political artist, Yahgulanaas aims to bring public affairs and art together as in his illustrated tale of clearcut logging on Haida Gwaii: "The Last Voyage of the Black Ship." See: Haida Manga - Tree Spirit.
Big tree on Haida Gwaii, 2007.
Photo: Justin Zoll