Crushing of Environmentalism
As natural resources dwindle worldwide and competition for them increases, environmentalism is routinely crushed by both corporate and government powers, especially in economies dependent on extraction industries such as British Columbia's (BC). With BC hosting the upcoming 2010 Winter Olympics, there is no tolerance for environmental dissent, as dramatically exposed in the heavy handed police crackdown against protesters at Eagleridge Bluffs in North Vancouver in 2006 (right). The rockface is being blasted apart to expand the Sea to Sky Highway, wantonly destroying a unique high altitude wetlands habitat. For their protest effort, 25 community members were arrested, among them 72 year old First Nations elder Harriet Nahanee, and the famous 78 year old forest activist Betty Krawczyk.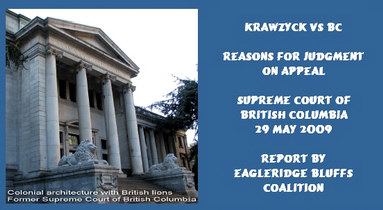 On 29 May 2009 the Supreme Court of BC issued its "Reasons For Judgement" on the Appeal filed by Betty Krawzyck to protest her jail sentence for Criminal Contempt. The Eagleridge Bluffs Coalition commented on the judgement (left). Betty was lauded for her continued dedication to civil liberties, which are being trampled on in BC by corporations, government, and their shared prerogatives. The judges dismissed Betty's appeal even though they failed to prove 'open, continuous, flagrant criteria.' The conclusion: "So Ends Another Chapter of Justice Canadian-Style."